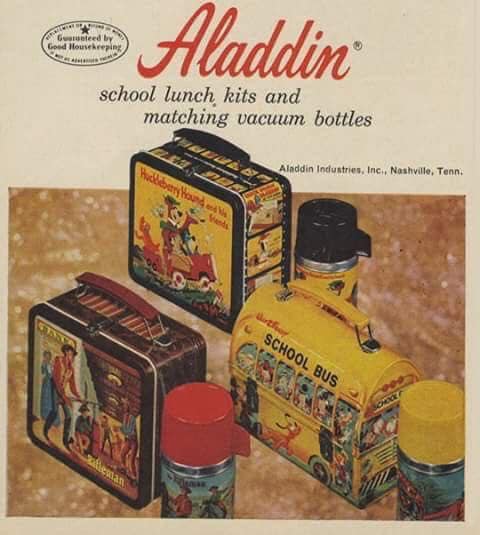 Aladdin Industries was founded in 1908 as a kerosene lamp and stove company as Mantle Lamp Company (now you know why it's called Aladdin as in Aladdin's Lamp). In 1914 it diverse to manufacture vacuum bottles and thermal jars. In the 1950's the company began producing lunch boxes. Their first licensed character was Hopalong Cassidy. Sales went from 50,000 units to 600,000. As a result TV branding was their focus and they dominated the lunchbox market. By 1965 the Aladdin acquired Stanley Bottle which helped them dominate the market.
I always envied the kids at school who had the school bus lunch box. Having four other brothers brown paper bagged lunches would have to do. Which one was your favorite?
Today, metal lunch boxes are not permitted in many schools in fear that they could be used as a weapon. How times have changed.